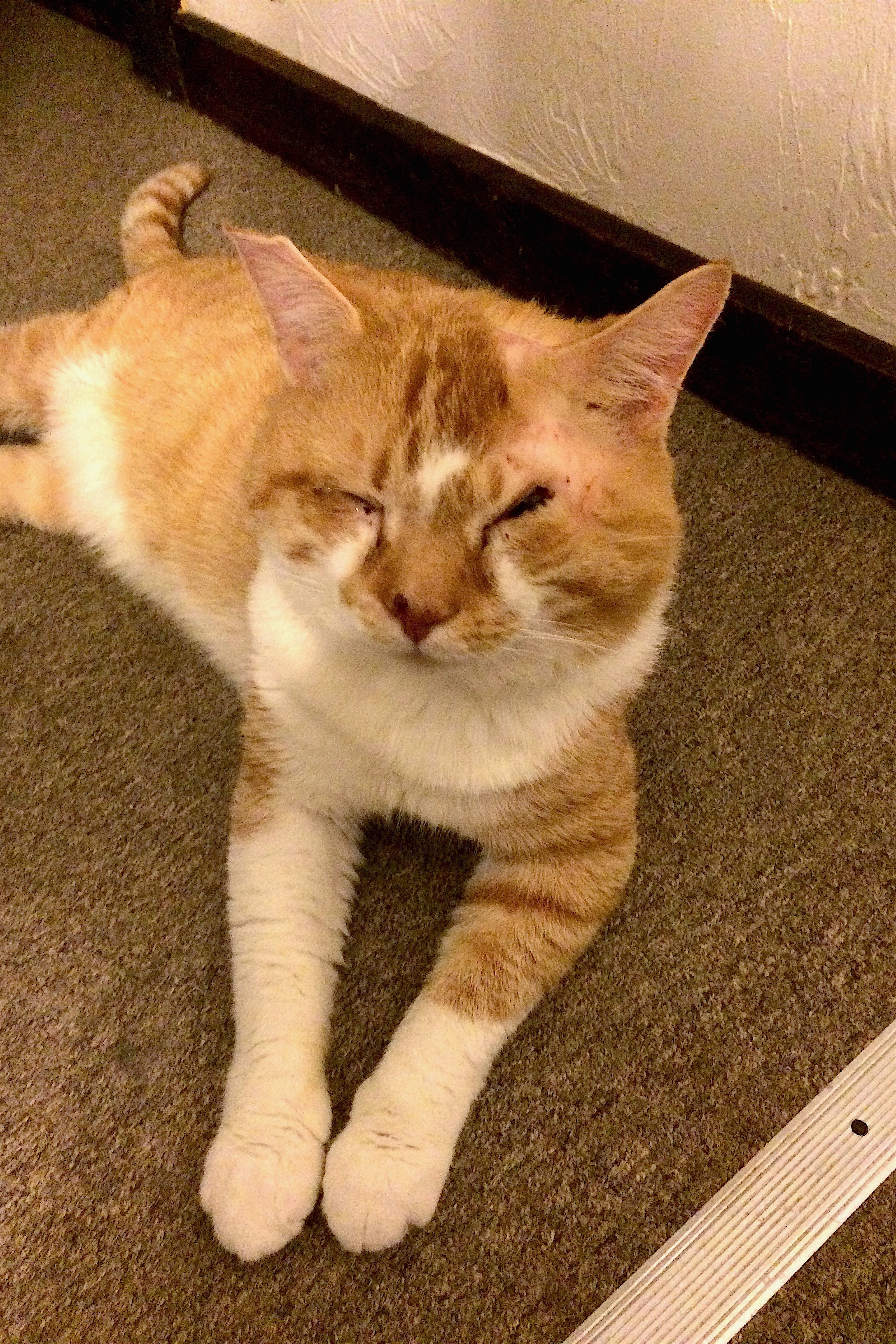 Chip did not look good when he first came to us. A normally beautiful orange tabby cat, his eyes were so filled with pus he could barely see. He also had a bald spot and scratches on his head from many years of both fighting with other cats and his attempts to scratch his eyes. When he was brought to the vet, we learned that he had a bad infection in both eyes, caused by his eyelashes having inverted and grown into his eye. This condition causes such pain and discomfort that the only solution was surgery in at least one eye, maybe both.
First he had to endure several medications, including some applied directly to his eyes, which he tolerated with bravery and trust, giving us a first glimpse of his sweet personality. Finally his infection cleared up enough for his surgery, which was successful, though he will have to have eye drops administered for the rest of his life (but he promises never to complain!).
Despite all he has been through in his eight years, Chip remains a friendly, loving cat. He follows his foster mom around and loves to sleep in bed with her (sometimes under the covers). He is an easygoing cat who only needs some attention and his beloved wet food, and he'll be happy. He is an alpha cat so probably shouldn't live with another male cat, but living with another female or by himself would be fine, as long as he has someone around to give him attention. He will repay you tenfold with love and admiration (he sees the person who gives him his wet food as the greatest in the world).
He still might not be the best looking cat, but he has a beautiful heart. Fill out an adoption application and come meet him, he's waiting to give you many years of love and devotion.