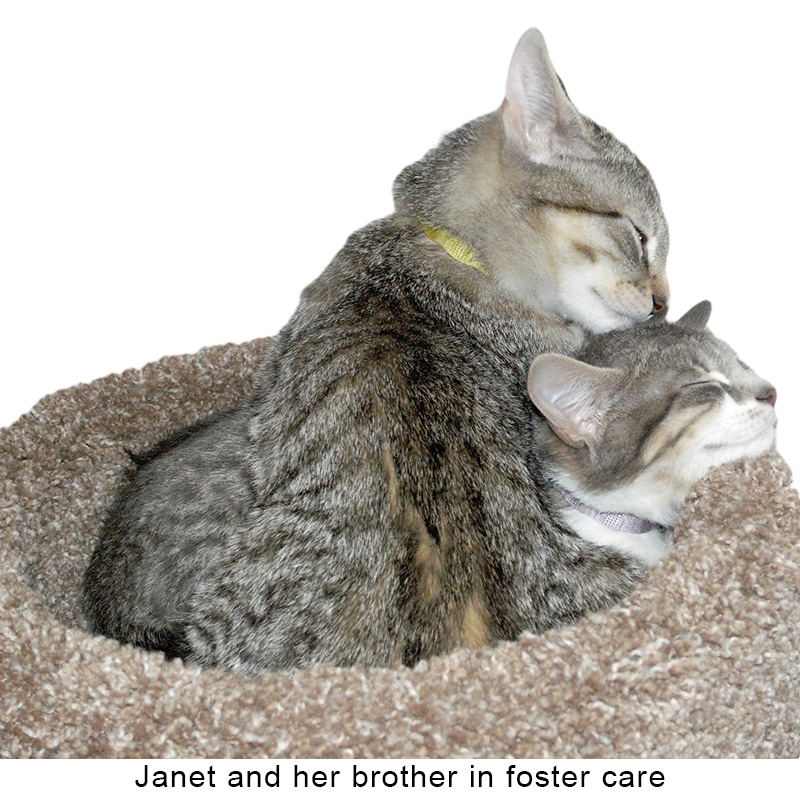 Janet only weighed a pound when she was found with her brothers and her mother. Her mother had found the safest place she could to keep her babies, but they were still near a busy street and exposed to the cold winter elements.
Janet and her family were part of a "colony clean-up", which we undertake when we are alerted to the presence of many cats in a certain area, and we trap and spay or neuter all the cats in the area. The kittens and cats accustomed to human contact we take in and find homes for, while the feral cats – less comfortable with human contact – we return to their colonies that we support with food and medical care as needed. In this area we trapped 15 cats and 27 kittens. This is how we are working towards eradicating the homeless cat problem one area at a time.
Fortunately, we were able to trap Janet's family and give them safety, food, and medical care, just in the nick of time, as Janet surely wouldn't have survived much longer. Janet was quickly adopted, and she loves her "sister" cat so much that she follows her around and sleeps snuggled next to her.
Janet's story is an example of what The Cat Connection does, how we save the lives of the cats who need us most, and why we need your help.
Your contributions have directly led to the rescue of thousands of cats since our inception 15 years ago. We are so grateful to you for giving us the opportunity to help save so many lives.
It's you who helped us arrange eye surgery for Chip, a cat we rescued with an agonizing eye disorder who is finally pain-free, perhaps for the first time in his life.
You helped us rescue Bruschi, who was likely abandoned in the fall and spent the winter cold and alone before we brought him in and found him a loving home.
Your support on our GoFundMe page made it possible for Tippy, a senior cat from one of our colonies, to have surgery and antibiotics for a very painful dental infection that made it difficult for him to eat.
But there are still many cats out there, being left and abandoned to face life on the streets on their own.
This is your chance to help those cats!
Sunflower and Link were left alone when their family went on a trip. They were found crying at the door of their empty house. We later found out that the owners no longer wanted the cats, so we took them in and found them a new home where they will receive the love and care they deserve.
This is just one example of the many cats who, for whatever reason, find themselves alone, scared and having to fend for themselves to find food and shelter. Without groups like The Cat Connection, lost and abandoned cats face a difficult future. Your donations help us provide a happier, future for these lovely cats, a future where they are loved and taken care of.
Please give what you can today so we can provide a better future for cats that are struggling out there on their own right now.
Your tax-deductable donation enables The Cat Connection to:
Rescue, shelter & provide veterinary care for stray and abandoned cats until we find them a permanent home
Provide food and medical care on a continuing basis for feral cats living in colonies
Assist those with low incomes with financial assistance to allow them to keep and care for their cats
Achieve our goal to open our own shelter, increasing our ability to care for many more cats in need
Please give what you can. Remember, we are all-volunteer so nearly every cent goes to the cats! You can also send a check to:
The Cat Connection
P.O.Box 541435
Waltham, MA 02454
Our warmest wishes,
Morgan Ritz
President, TCC
P.S. Another way you can help: Watertown Savings Bank customers can vote for us in the Customer Choice Awards. The prize for the most votes is $10,000! Please help us win!