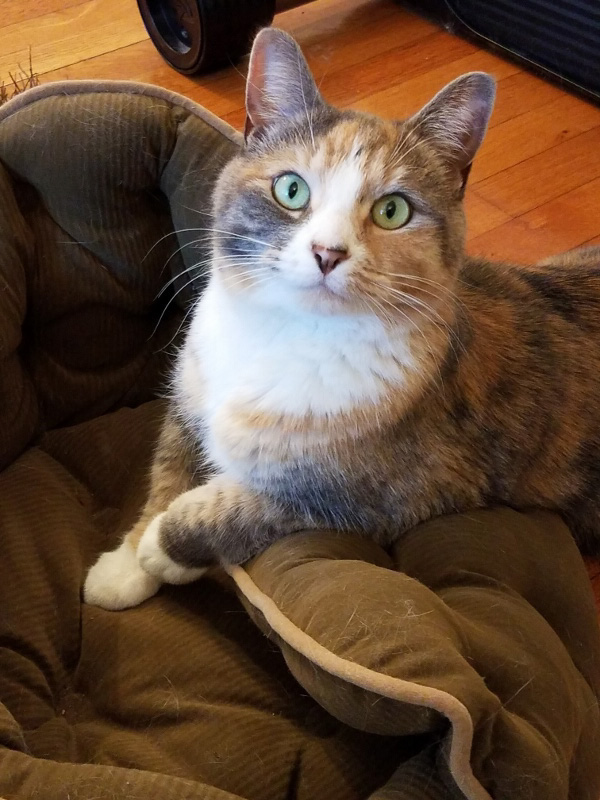 Hello, I am Josephine. As you can see, I am a beautiful dilute calico girl and I am about two years old. Do you like my paws? Some people think they look like mittens. I don't know what that is but I guess it must be a good thing because they seem to like it. They say I have a cute little nose too. Do you think it is cute? I don't know. What is cute anyway?
I was wandering around on the street for a while, when a wonderful good samaritan picked me up and took me home with him. He knew about The Cat Connection, so he called them right away to let them know he had rescued me from the cold. They took me to the vet and found out that I was spayed. I guess that is a good thing. Lucky for me, I was only on the street for a short time, and the vet said I am in good health. They think that I was loved by someone at one point. I am really not sure why I ended up on the street, but for some reason, my previous family was not able to care for me anymore or they just didn't want me.
Oh but now for more about me! I am a friendly sweet girl and talkative too! Do you like chatty kitties? We could probably have some really great conversations about what I think. Some of my hobbies are bird watching, scoping out the neighborhood squirrels, chasing a laser pointer and playing with a feather wand. Oh I love to jump and stalk that thing! Then I like grooming and napping. I love to be petted, but I will let you know when I want you to stop. I might just put your hand in my mouth but I don't bite.
I would love to find a forever home with someone who has enough time to spend with me talking, playing and sometimes just being around each other. I know I would not like being left alone all the time. I would even like to have another kitty as a friend. What do you think? Would you like to be lifelong friends?
I have a foster home right now with a very nice mom and dad but I really want to have a forever home. That is where I get to stay with you for a long long time, like forever, and you will love me a lot. So do you think you might like to come and meet me and take me home? If so, please fill out an adoption application. Thanks!