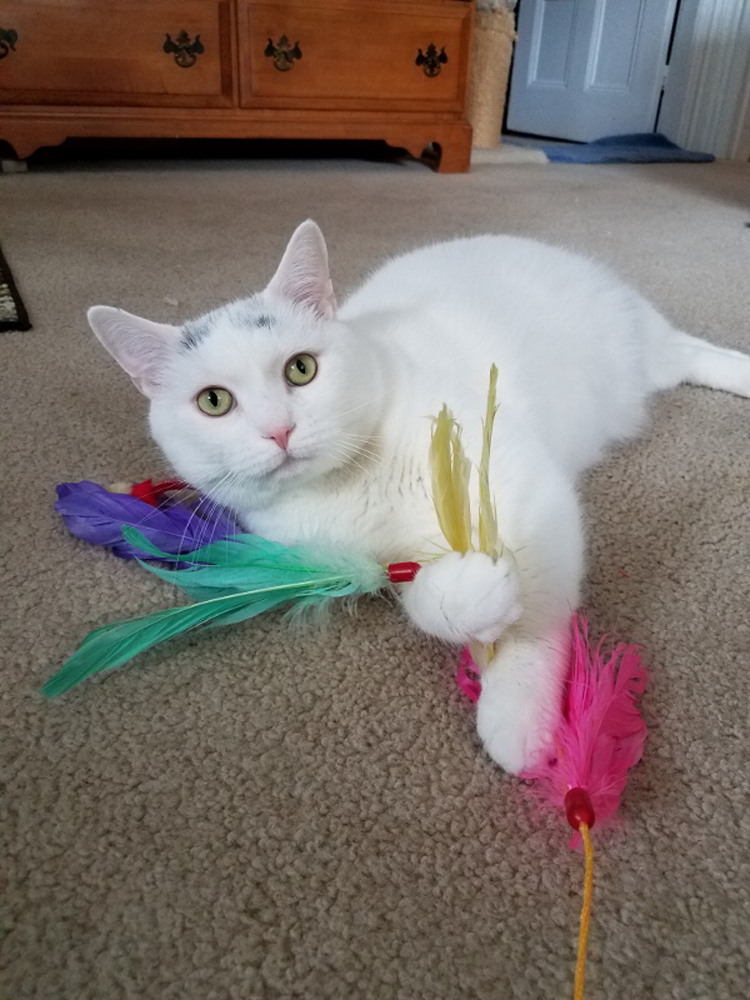 Hello, I am Fluff.  I am a large, six year old neutered male cat, white with gray splotches on my head.  I am sweet like marshmallow cream, and I think I am really handsome, too!  I really love humans, and I love it when they dote on me.
I am living with my foster mom and a feline girlfriend right now.  My foster mom is really nice and so is my girlfriend.  The three of us get along really well, but I would not mind being an only cat if that is what you prefer.  I have a lot of little fuzzy toys and a cat condo, and I like to play.  I hang out on my condo, and I have learned how to use a scratching post, too.  I love to sleep on my foster mom's shoulders, and I like to be petted.  Mostly, I am a pretty laid back cat, who likes to chill a lot.  I can sit by you and keep you company on those long winter nights or any night!
I am a healthy boy, and I have a good heart.  I have a dental appointment coming up soon, so my teeth will be sparkly clean!  You should know that I am FIV+.  Do you know what that means?  Well, it means that I am infected with feline immunodeficiency virus, and my immune system can be more susceptible to other viruses.  At first, I was scared when the veterinarian lady told me that.  But she said if I live indoors, and you take good care of me and feed me a good diet, I can still have a long, healthy life.  My virus cannot be spread to humans or other animal species nor can it spread to other cats through casual contact.
Maybe you want to meet me?  I think you might fall in love when you meet me, because I really am just a big ball of fluff!  I am ready to take the plunge and fall in love with you, too!