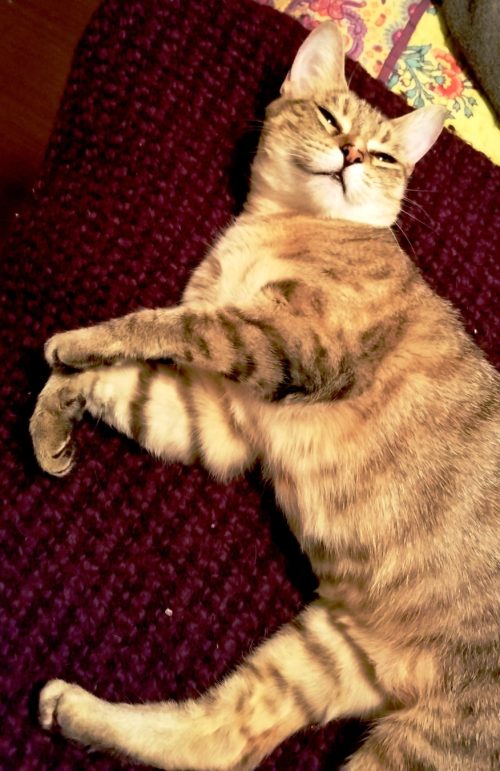 Hi there. My name is Wanda. I am sooo comfy here laying on my very own soft blanket. I love my foster home. I get nice meals delivered right to me, a soft bed to sleep on, sunny windows to nap in, this thing called catnip, and my foster mom to snuggle up with. Yes, life is good for me. But it wasn't always that way. You see, not too long ago I was a very young mother (I'm only a little over a year old) living on the streets with my kittens. And they were a handful. I had to find food for all of us, move them around so they'd be safe, and chase off any intruders who might want to hurt them. Sometimes other cats, or dogs, would come too close to where I had hidden my babies, and being the good mom that I was, I had to teach them a lesson. I mean, what would you have done? That's when I turned into a vicious mama cat and, apparently, scared a few people, too. I guess some humans didn't appreciate it when I took off growling after their doggy friends, and I was reported to Animal Control. But really, you should have seen me on that pit bull's back; I hung on like a rodeo star! That's when the ladies from The Cat Connection came and rescued my babies and me.
I must say this life is nothing at all like my other one. I no longer have to worry about food or other animals, and I know my babies are safe now. Now that they are being taken care of, it's my turn to enjoy life and be the kitten I never really got to be. My foster mom plays with me a lot and I could play all day and never get tired of it. I love sleeping on the human bed with her, but I also have my own bed and all sorts of toys. Big sunny windows let me gaze out on the backyard wildlife and doze the afternoon away. My mom works all day so I have to be alone and it really does get lonely here by myself. There are 2 other cats here, but I have to be kept separated from them because one time I got out and chased them up the cat tree, and pulled a clump of fur out of one of them. I just do not like other cats, or dogs, at all. I'm strictly a people cat. For that reason, my new furrever home can't have any other pets. I need to be the one and only. But really now, why would you need anyone else but me? You see, I love being with people, and will always be happy to see you. I'm wicked smart, too. I learned the "stay" command – well, I had to so my Mom could go in and out of where I was without me dashing out to attack those two other ridiculous felines that live with her.
My foster mom told me I'm only living with her until we can find my furrever home. She promises me that I won't have to spend as much time alone there, and there won't be any other pets to make me angry. She says I will get to play a lot with my new people, and I'll have the run of the whole house – not just two rooms. I can't imagine what that would be like, but I can't wait to find out.  So, my new home could have kids, but maybe older kids. Sometimes when we're playing I get a little over-stimulated and can play rough. Mom has to give me a time out until I calm down, but I'm learning and doing much better with that now. Mom always says to me, "How'd you get to be so gosh darned cute?" I don't really know how to answer that. I guess I always have been.