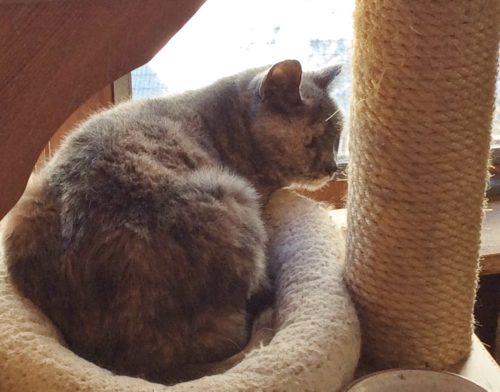 Do you think you know about feral cats? Here is the story of one such cat, a pretty little muted calico tortie named Dusty. Dusty's mama was a feral cat who lived in on the South Side of Waltham in one of The Cat Connection's feral colonies. She was trapped as a kitten, spayed and vaccinated, then released back to her colony. There were lots of other cats living in that colony when she was born, and she made her life among them. 
TCC colony cats live outside. Some find their way there for reasons unknown, some are lost, abandoned by people who no longer want them or can no longer care for them, others are born outside and give birth to their babies outside. No matter how they found themselves living in a colony, there is one thing for sure. Colony cats are loved by the volunteers that provide feeding stations and warm houses with straw bedding so they may be safe from the elements and predators, the volunteers that feed them daily, bring them water, shovel out paths through the snow for them in the winter months, and care for them as they would their own cats. The cats, in turn, show their love and appreciation in subtle but meaningful ways, when they pose for a photo, nudge the leg of a feeder, or peer out from a pile of wood or scrub brush anxiously awaiting their food.
In the fall of 2016, Dusty was the last surviving member of her colony, and suddenly there was no place for her to go. There was no longer a caretaker or a safe place there for Dusty to live. She was losing weight from not getting her daily meals. Outside on her own, she could not survive for long. One woman decided she could not leave her there to die alone. Dusty was trapped once again, and she was brought to one of our foster homes to live with other forgotten felines. Forgotten by their previous owners, but never by the many volunteers who come to this foster home, a makeshift shelter that one woman so selflessly provided by giving up part of her own house so that these abandoned cats could live safely indoors with other cats.
When Dusty first arrived, she was petrified. She did not understand what happened to her. She was taken from the only home she ever knew, the outdoors, to a new world full of unusual sights and smells. She wanted to hide to get away from it all, and that is what she did. For about the first eight months in Dusty's new indoor home, she lived in a cabinet during the day and only came out at night to explore the new world around her.
One volunteer decided to try a neat trick with baby food one day. She started feeding Dusty a little bit of baby food on the end of a stick. Dusty took to it pretty quickly, and that was the start of her slowly wanting to emerge during daylight hours when volunteers were there, curious about her surroundings, but still unsure. She could usually be seen tucked away in a cubbyhole or in a quiet cat condo, not allowing anyone to touch her. She still moves around quickly to find hiding spots when there is too much activity in the house. Her favorite feeding spot is still inside a cabinet, where fresh food and water are left for her twice daily. But now she seems happy in a bed close to where there is a lot of human activity, or sunning herself on a condo near a window out in the open. Dusty has made great strides in gaining confidence and trusting humans, and we hope she continues to grow more confident with every new day.