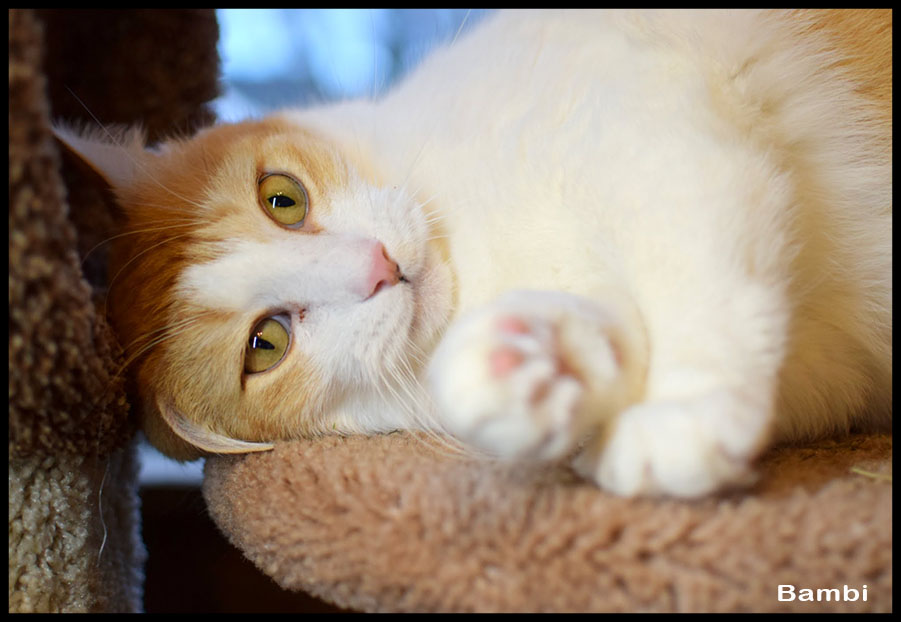 We know how much you love your cat(s). Could you imagine her suddenly finding herself outside, left somehow make her own way to food & shelter, with all the inherent dangers of being out in the world? She has been relying on you for her care, and now doesn't understand why it has been taken away, or where she can turn for help.
We know, of course, that you would never let this happen to your cat, but unfortunately for many cats, this is their fate.
This is why The Cat Connection exists, to rescue these poor babies and match them up with the right adopter so they can live safe and happy lives.
Please contribute what you can and allow us to continue to save these ill-fated cats, as well as many others.
Cats like Bambi, who was abandoned by his owners and fed by various neighbors until the day he showed up with a large wound and TCC was called. We took him to the vet and had his wound treated. We found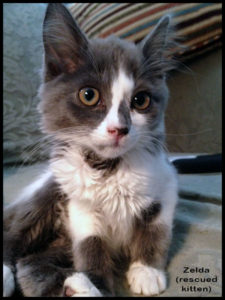 out that he was an incredibly sweet cat who only wanted his own safe space, which he found when a volunteer saw his adorable orange face and couldn't resist him. Now he is comfy and cozy in his very own home.
You made this possible for him, and you can give this gift to other cats as well.
Cats like the motherless kittens we were alerted to living under a porch. It was late fall and we knew we had to bring them in before the onslaught of winter. Coyotes were
also a threat in the area. The kittens had never had human contact and were difficult to trap, but our determined trappers were able to corral them. They were taken to the vet and then to foster care, where patient foster parents taught them to trust humans, which allowed them to be adopted into loving homes.
Winter is a tough time of year for cats living on the streets.
Please help us save and care for these cats now, with a donation today.
What will your donation pay for? Here are just a few of the typical expenses we incur with each cat we rescue:
Spay/Neuter: $95/$85
Combo test for FIV/FeLV: $25
Rabies & distemper vaccinations: $40
Revolution treatment for fleas: $18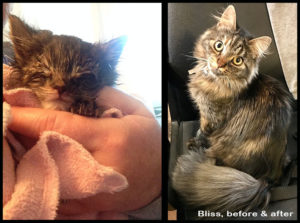 Please give now so the next cat we rescue will have all the care she needs. Your donation will also help when emergencies arise, such as when Blackjack & Bliss were anonymously dropped at an emergency pet hospital with terrible upper respiratory tract infections. Their eyes were so full of pus they could barely see. The hospital called The Cat Connection and we took these kittens in and attended to their care. With good treatment they healed well and were soon adopted by a loving family.
The Cat Connection has been rescuing stray and abandoned cats and kittens like these for 17 years. We were able to help Blackjack and Bliss because of YOU. Your continued support and contributions gave them a chance.
Now we're giving you a chance to continue to help us do this life-saving work.
One great way to help is to find out if your employer matches donations. You can ask your company's HR department about this, or email: newsletter@thecatconnection.org for more info.
On behalf of all the cats whose lives you've saved, we'd like to thank you for your thoughtful and essential support.